CLICK HERE TO LISTEN & DOWNLOAD ON BANDCAMP
Also available from iTunes, Amazon, CD Baby, etc…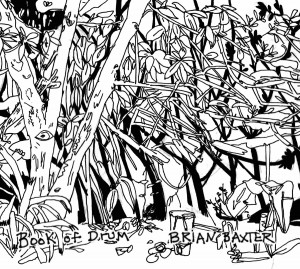 'Book of Drum' features a tight-knit collection of original tracks exploring diverse sounds and rhythms of the drum set through the lens of my life in Chicago. I drum my way through the instrument's wide-ranging sonorities using a diverse array of sticks, mallets, and found objects. It embodies life in Chicago at once noisy, messy, and fast-paced, yet also captivating, communal, and proud.
released 06 April 2014
Music written and performed by Brian Baxter. | Artwork by Francis Zaander. | Produced by Brian Baxter and Dan Smart. | Recorded, mixed, and mastered by Dan Smart at Echo/Normal Studio in Chicago. | ©2014 by Brian Baxter, ATIHADSO MUSIC (ASCAP), All Rights Reserved.
Track Listing:
1.Express Train
2.Waves
3.Propeller
4.But will they take away our guns?
5.Mettle
6.home(less)hope
7.Who goes to heaven?
8.A Message from the French Embassy
9.Letters from Steven
10. City Possum Gets a Moon Tan
11. Sugar & Dye
Instrumentation: drum set
Duration: 35 minutes
Date: 2014